Click Here For Original Source Of The Article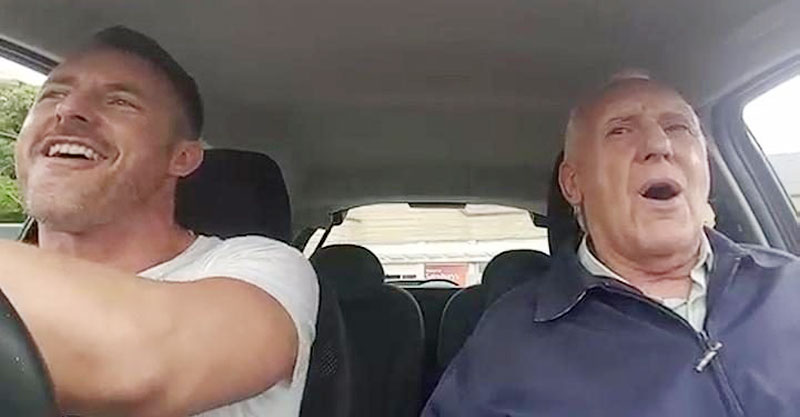 When I met my wife over a decade ago, her mother was already years into the slow and excruciating decline of Alzheimer's and Parkinson's. Though she was alive for years, I never knew her. She was non-vocal by then. I got to know something of her gentle and noble soul through the stories of love and loss from my wife, father-in-law and others. I observed things in that time that seemed to actually make cancer feel like an upgrade, and I have watched and lost close friends and family to that demon. She has since passed away, years ago now.
A couple of days ago I happened upon this story of The Songinaminute Man. A story of a father diagnosed with dementia in 2013 and his son, Simon McDermott. They kind of broadsided my heart with their sing-along together in their car.
The father, Ted, had enjoyed a long career as an entertainer and earned the nickname "The Songaminute Man" due to the many tracks he quickly knew by heart. You can probably see how especially horrific and bitterly ironic Alzheimer's is here. What I experienced of Alzheimer's was secondhand, but I can promise you I know how special a moment like this would be for someone who was losing their parent, watching their parent slowly slip away, but to then get a chance to share a moment of beautiful and musical lucidity…
Watching the video made me so achingly sad and so happy for them at the same time. I know there were moments my wife would have literally sacrificed an arm or a leg to have had a moment like this with her mom, when she was near the end. Uuuuuugh. The circle of life has some really dark curves it can throw at us.
Sometimes you just have to be glad of a candle when darkness seems to rule the day.
On the brighter side, the father and son duo has raised a ton of money for the Alzheimer's Society with their viral story and you can donate to their campaign or watch more of their touching videos on The Songaminute Man YouTube page.