Click Here For Original Source Of The Article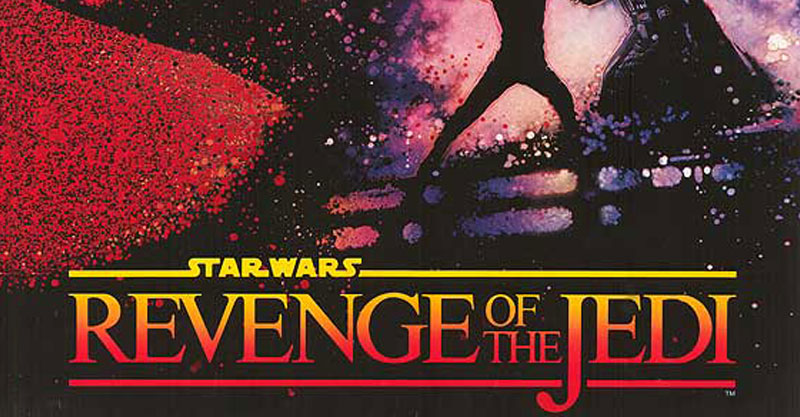 Here's a little story of a father and a son, a special bond reaching across decades, and a mystery about a nostalgic treasure that could be worthless or… worth a lot more than worthless.
Last week my wife and I finally got around to choosing and buying some old vintage prints to put up in a bare part of the house. Listening in, my son piped up and said he wanted to get a poster for his room.
His request was the key to a dusty memory I had store away in one of the rusty trunks in the attic of my mind.
I remembered a print that I'd bought when I was a teenager. A movie poster I'd only taken out of its protective tube once in the decades that have past. I knew he would absolutely LOVE it.
A little background: My son and I watched Star Wars: A New Hope for his first time last year (and videoed it) and he's been obsessed ever since.
Having a dad that's a Star Wars fan with a computer has its perks.
I told him, "I may just have the poster you're looking for." (A little Star Wars reference, that he completely missed.) All he heard was that he was getting something, and began hounding me to know what it was. My lips were sealed, though. I didn't want to get his hopes up, in case I didn't even have it anymore.
We spent the next hour tearing apart the garage, closets and basement looking for a cardboard tube. And then… I found it!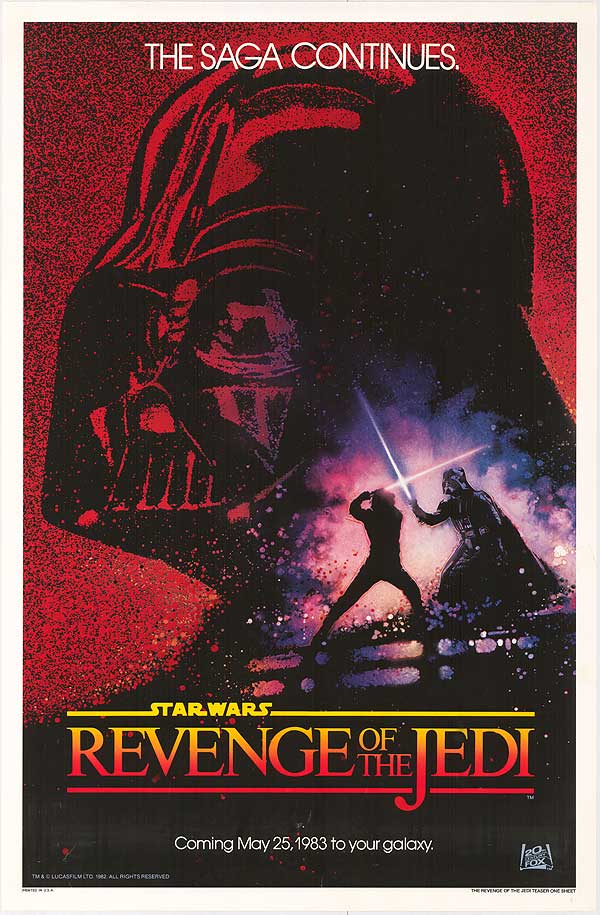 I unrolled the print ceremoniously and his eyes became little Death Stars as he saw the beginnings of Darth Vader at the top. His mouth was hanging open once it was fully unrolled, but then his eyebrows gathered together in confusion.
"'REVENGE' of the Jedi?" he asked. It was with a geeked-out joy that I explained to him the the film was originally called Revenge of the Jedi, and was changed last-minute to Return of the Jedi, further pointing out that revenge goes against the Jedi way.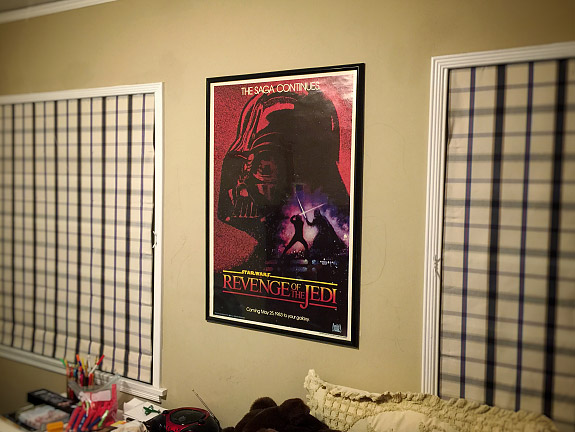 Now, here's the mysterious part. A quick look online will tell anyone that this poster is one of the most infamously bootlegged cinematic prints. So, you can easily own a bootleg that's very close in age to the original rare item. I'm fairly sure this is a bootleg. But if it isn't, then it's worth around a couple thousand dollars.
My little boy has no idea about this, though. He's only just barely becoming aware that some old things are more valuable than new ones, because they're old and rare. An odd concept for a little kid, if you think about it.
What matters most to me is that it's hanging in his room. I'm so moved that a Star Wars collectible I bought over 20 years ago is now my 7-year-old's first bedroom poster. That said, I did tell him not to go full-kid on the thing and ruin it.
–
The next day a friend of his came over and he was so proud to show it off. His chest puffed out as he explained professorially that Revenge of The Jedi was the original title, but it was changed because "revenge is not really a Jedi kind of thing" and was "more of bad guy thing."
His friend regarded the print and gave his deep and thoughtful little-kid critique, "Coooooooool!" And my son glowed like a lightsaber. I probably did as well.
I'm overjoyed the Force is with my son. Always. Everywhere. Including coffee shops.