Click Here For Original Source Of The Article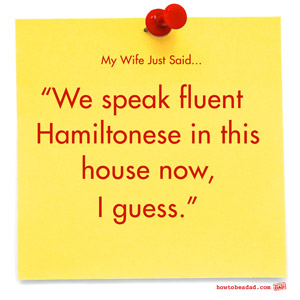 We've been hearing about the Hamilton musical for a while but once my wife and eldest son, Finn, saw the play in New York back in January, it hasn't been turned off in our house. Sure, there are some intense themes and curse words, but there's so much my son loves about the play. He now has a voracious appetite for US History and wants to sing and dance so much more.
I finally got to see it, with my mom, last weekend and it's hard to believe I waited/couldn't see it until only now.
Tingles and tears.
My mom saw the show with my wife and son, but it was particularly special for the two of us getting to see it together. We spent time in San Francisco beforehand, grabbing some Indian food and then making our way to the theater. We talked a lot. We pieced together old memories. We reflected on things that have changed over the last decade. We had our eyes on our history.
History had its eyes on us, but we need, as a planet, to look to history more than ever, to reflect on our cultural choices and watershed moments in history.
But when we saw the show, and history had its eyes on us, that history felt closer than ever. My family speaks fluent Hamiltonese now.