Click Here For Original Source Of The Article

It's very amusing how kids can be wonderful at being awful about certain things. When I was a kid, there were times my parents made me apologize to my siblings or friends, and I can remember how lifeless and boobytrapped some of my sorries were.
Kids quickly get pretty good at whipping up some completely remorseless apologies, cleverly weave excuses and insults into them. "Oh I'm so sorry I yelled at you because you were being so mean and deserved totally it."
Let's look at 12 "sorry not sorry" notes. (I've improved the images and added clear text, because kids.)

1. Sorry, Devil Baby
This one just gets darker as you read.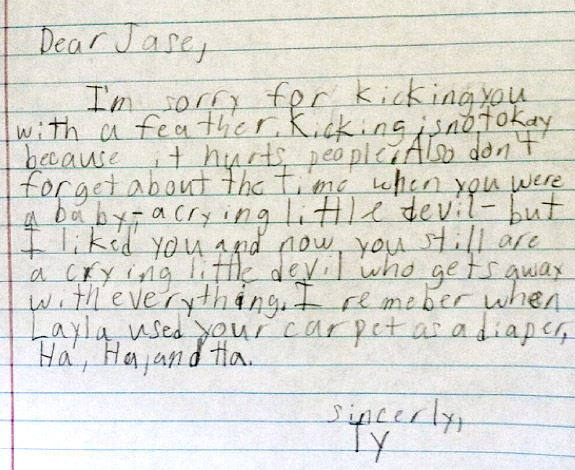 Dear Jase,
I'm sorry for kicking you with a feather. Kicking is not okay because it hurts people. Also don't forget about the time when you were a baby – a crying little devil who gets away with everything. I remember when Layla used your carpet as a diaper. Ha, ha, and ha.
Sincerely, Ty

2. Sharing Is Caring
Awwww, this 5-year-old got in trouble and wants his to share his feelings.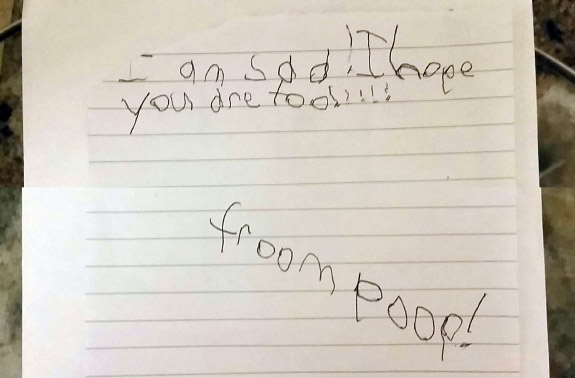 source: imgur
I am sad. I hope you are too!!!!!
froom poop!

3. Apology Duel
It's like two pro politicians trying to take and displace responsibility.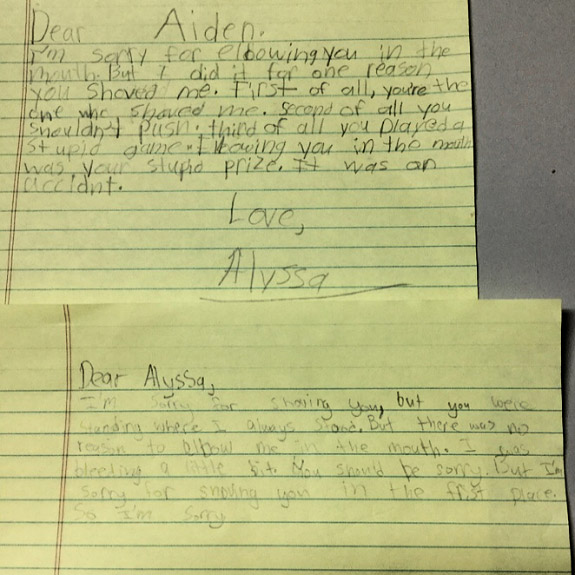 source: imgur
Dear Aiden,
I am sorry for elbowing you in the mouth. But I did it for one reason you shoved me. First of all, you're the one who shoved me. Second of all you shouldn't push. third of all you played a stupid game. Elbowing you in the mouth was your stupid prize. It was on accident.
Love, Alyssa
–
Dear Alyssa,
I'm sorry for shoving you, but you were standing were I always stood. But there was no reason to elbow me in the mouth. I was bleeding a little bit. You should be sorry. But I'm sorry for shoving you in the first place. So I'm sorry.

4. Heartfelt
So um yeah. It's not always good to ask for the reason why they're sorry, I guess.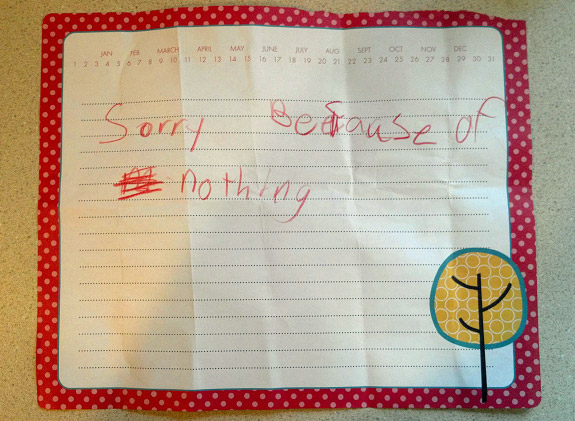 source: imgur
Sorry Because of nothing

5. Gamer Sportsmanship
At least he didn't start his Xbox message with "Dear butthurt noob,"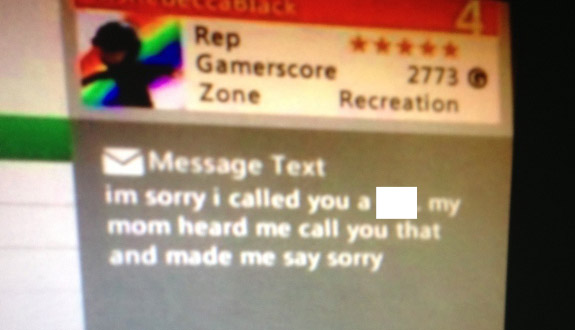 source: imgur
im sorry i called you a ###. my mom heard me call you that and made me say sorry

6. Getting Out of Time Out
I wonder if she got out of Time Out with this. Hey, she did add a drawing.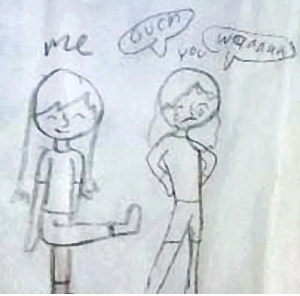 I'm sorry I kiked you even know I didn't but I am not writing this for in apology I'm doing it to get out of time out. sorry?
7. Sorry Not Sorry, Literally
It's almost like a riddle, but the answer is simple: not sorry.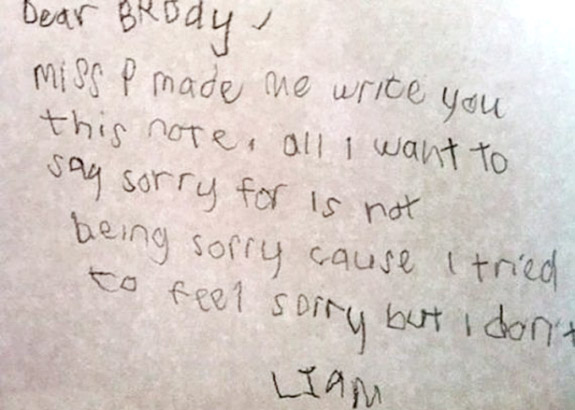 Dear Brody,
Miss P made me write you this note. All I want to say sorry for is not being sorry cause I tried to feel sorry but I don't.
Liam

8. Kill 'Em With Kindness
I really hope a kid didn't write this. But I also cringe that anyone who drops a mother f-bomb had trouble spelling "I'm" and "sorry."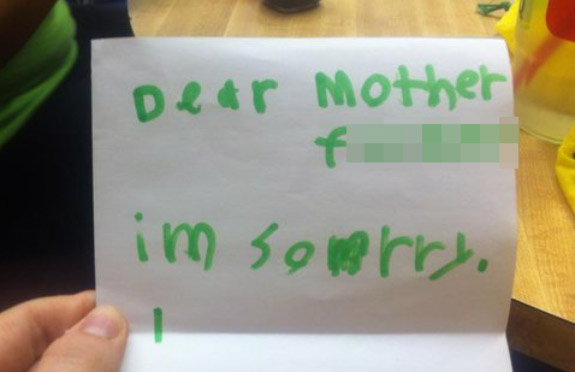 source: imgur
Dear mother f#####
im sorry.

9. One Small Apology with a Side of Guilt, Please
She apologized, yes. But at what cost!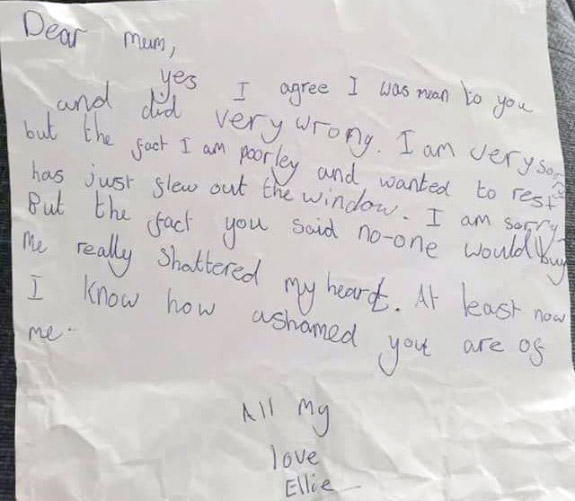 source:
facebook / The Unmumsy Mum
Dear mum,
Yes I agree I was mean to you and did very wrong. I am very sorry but the fact I am poorly [sick] and wanted to rest has just flew out the window. I am sorry But the fact you said no-one would buy me really shattered my heart. At least now I know how ashamed you are of me.
All my love, Ellie

10. Short and to the Point
Plot twist: there is no point.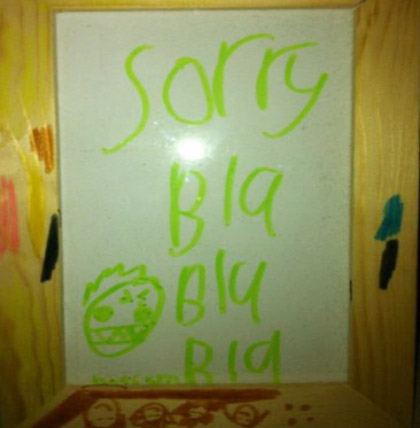 Sorry
bla
bla
bla

10. Maybe Don't Mention Death
So yeah. Gold is a generous gestures and all but um… ehem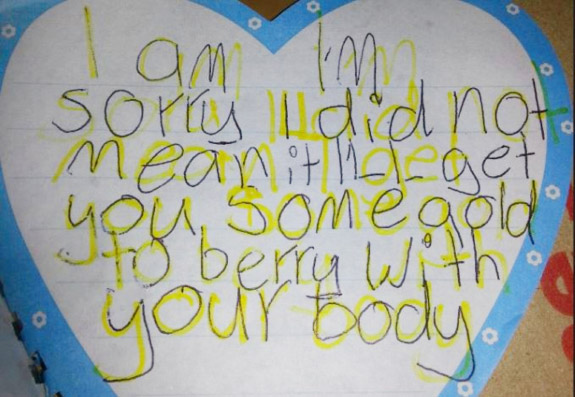 I am I'm sorry I did not mean is I'll get you some gold to berry with your body.

12. To My Third Best Backup Friend…
This kid knew exactly what he was doing. (Worth the read.)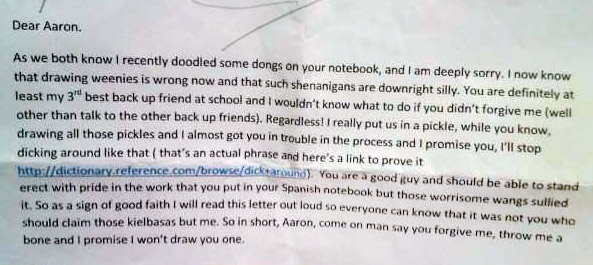 Dear Aaron,
As we both know I recently doodled some dongs on your notebook, and I am deeply sorry. I now know that drawing weenies is wrong now and that such shenanigans are downright silly. You are definitely at least my 3rd best back up friend at school and I wouldn't know what to do id you didn't forgive me (well other than talk to the other back up friends). Regardless! I really put us in a pickle, while you know, drawing all those pickles and I almost got you in trouble in the process and I promise you, I'll stop docking around like that (that's an actual phrase and here's a link to prove it http://www.dictionary.reference.com/browse/dick+around). You are a good guy and should be able to stand erect with pride in the work that you put in your Spanish notebook but those worrisome wants sullied it. So as a sign of good faith I will read this letter out loud so everyone can know that it was not you who should claim those kielbasas but me. So in short, Arron, come on man say you forgive me, throw me a bone and I promise I won't draw you one.
There you have it. Apparently, while vocabulary might improve, the apologies don't always get better as kids get older. Yikes!
I know a lot of adults that are very terrible at it, too. It's a lot less amusing than when kids do it.