Click Here For Original Source Of The Article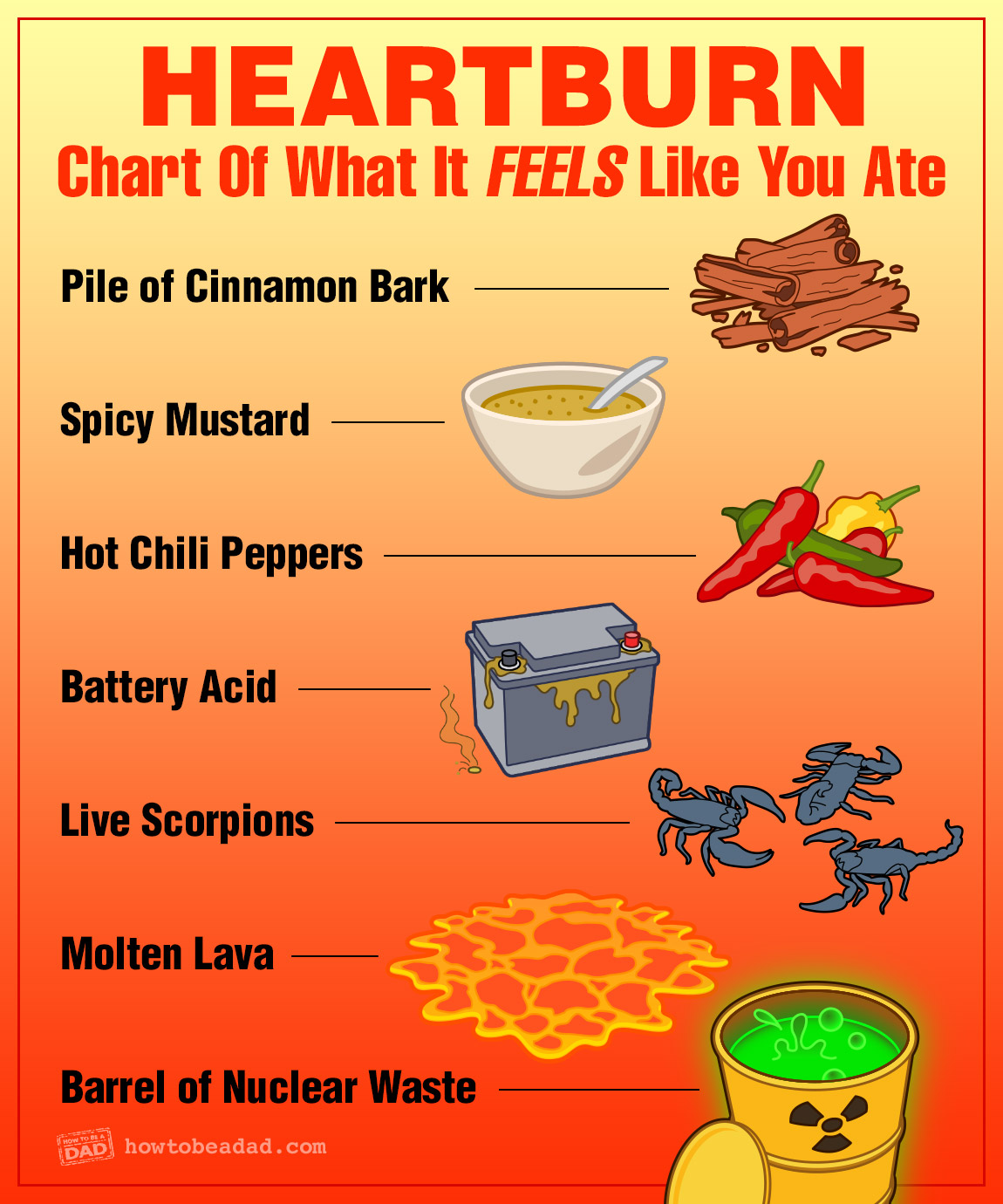 I am participating in a sponsored campaign hosted by Nexium 24HR. I received compensation for this post. While all opinions stated are my own, I make no claims about Nexium 24HR as a product or its effectiveness. Use as directed. May take 1-4 days for full effect.
I had an odd request for my birthday this year.
I wanted to go to a restaurant. Not a fancy restaurant with fabric napkins and menu items so hard to pronounce you have to point at their names when ordering.
No no. The place I wanted to go with the family was a place with paper napkins and a menu where you could add chili to anything, probably even your beverage. A place from my youth. The fairly famous Pink's Hot Dogs in Hollywood.
It was cosmic when Nexium 24HR reached out to me to partner up, because it gave me relief from my frequent heartburn and the chance to share an exquisite edible treasure of my youth with my son.
When I was younger, I used to have a cast iron stomach with a built-in chipper shredder, so I could actually eat anything in vast quantities and I might get a few pimples out of the bargain. As I got older, there were heavier consequences to what I ate (pictured in the chart above). Frequent heartburn can really acid-rain on a foodie's parade. And anything remotely resembling chili became something I'd have to pay a nasty price for.
So one day we all piled into the car and headed out, which for me felt like driving into my childhood.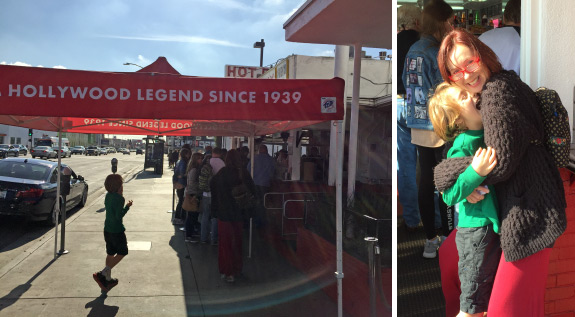 There's always a line at the best places to eat.
My 7-year-old, like so many kids, is a total "food snob" (meaning he'll only eat about six or seven things, really). But! Hot dogs and hamburgers happen to be on his list. I really wanted him to try chili, though. In line, I started bribing him. My starting bid was a dollar, he shook his head and I jumped quickly to a fiver. This got his attention, he knew this was important to his Daddy, but he still refused.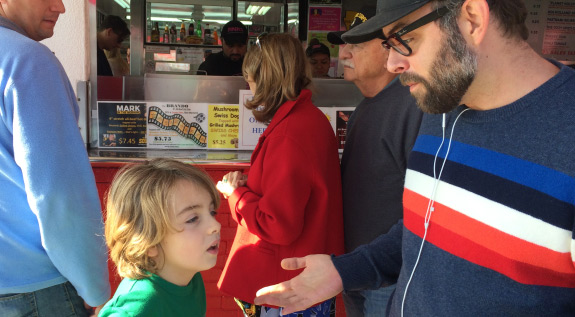 He finally agreed to try chili for the first time (if I got him a new toy, of course).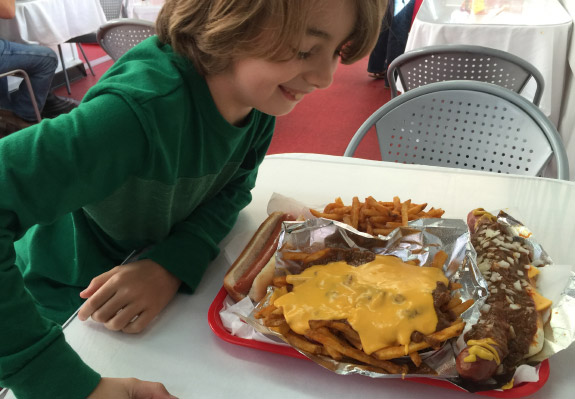 Cautious, he said it looked weird, but smells good.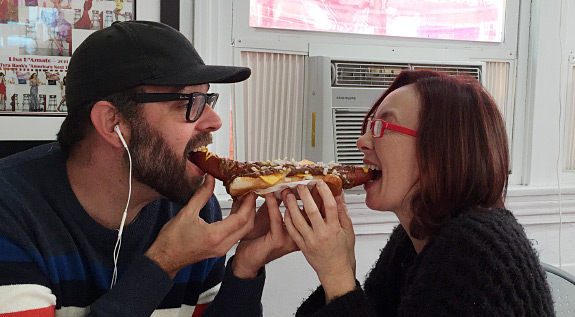 Not quite Lady and the Tramp.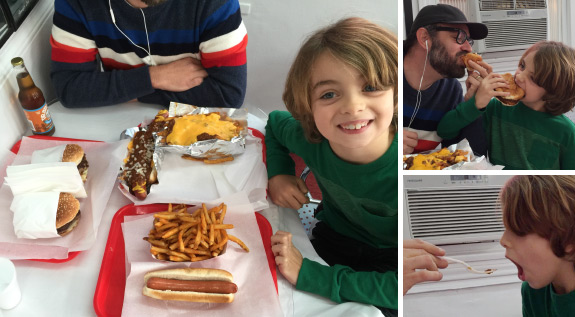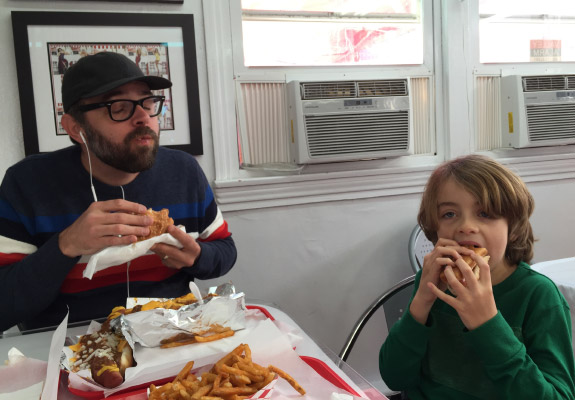 Sooooooooooo good!
Then it was time for him to try chili for the first time. He asked if it was spicy and I made an Academy-Award-worthy dodge so he wouldn't chicken out. Still, he did insist he have his water bottle to hand.
Here tried it! And LIKED it! I was way more happy about this than I probably should have been.
We all had a good time, except for me. For me, it was fantastic! Sharing your all-time favorites with your kid is one of the best parts of parenting. Them actually liking them is even better.
–
Nexium 24HR is the #1 choice of doctors and pharmacists for their own frequent heartburn,* so it's a real big DUH for me. So thanks, Nexium 24HR, for helping me banish the burn. My birthday treat was all the more heavenly because I knew it wouldn't be followed by hell.
Now my mouth is watering just thinking of all the other foods I can share with my son as his appetite broadens. It's nice that I'm not getting heartburn just thinking about them.

* Among PCP's and Pharmacists who use a branded OTC PPI